Say "hi" to Your Own Blog Style!
Now, you can customize your blog list, blog single, and blog archive to the last bit. Control every element, appearance, placement, alignment and edit ALL visual attributes through a completely visual editor.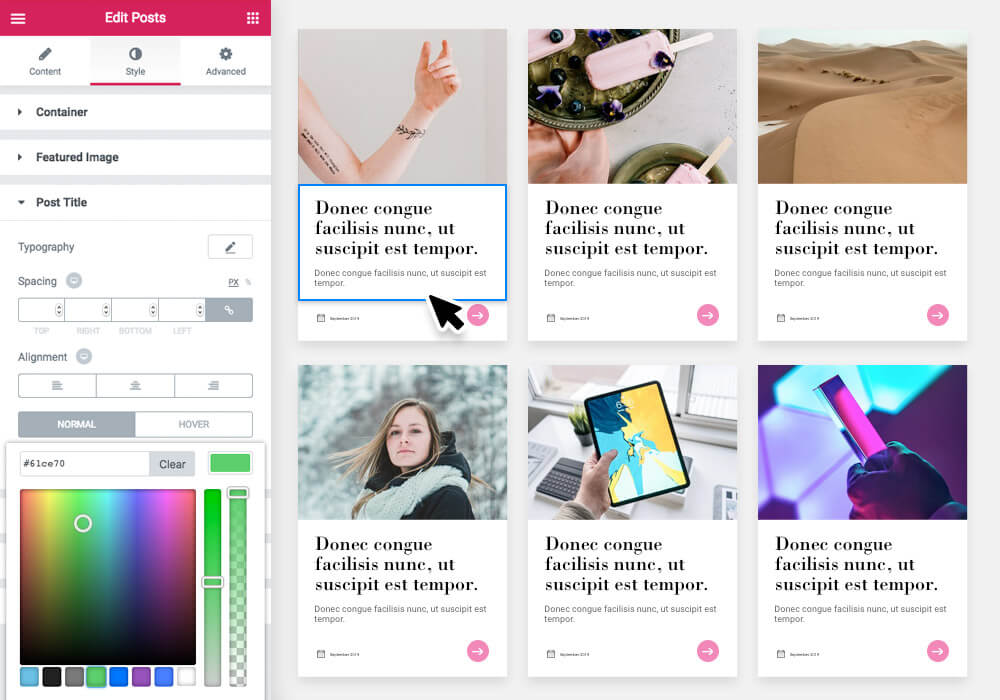 Don't limit yourself to premade styles for your blog list. With Jupiter X, you can finally define your own blog style. Add, remove, and edit the elements based on your blog and brand preferences.
Customize the hover effects, featured image, post title, meta description, excerpt, CTA button and much more, and see the results in real time!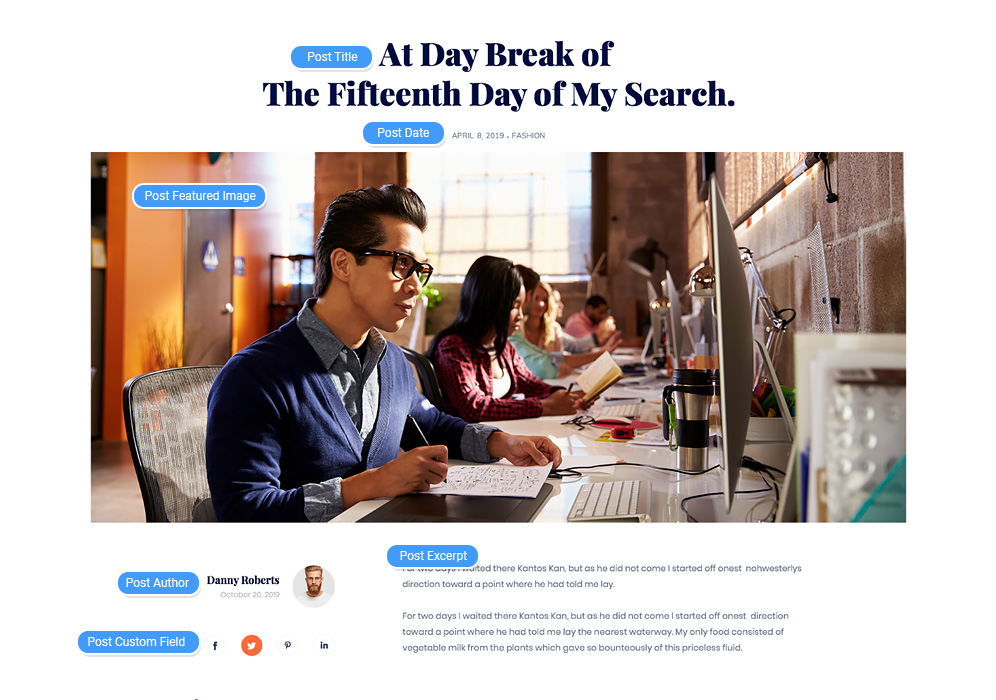 Create your own blog single page layouts
And just when you think it can't get any better, here comes the mighty Custom Single Page feature to customize your blog single page down to every last detail! Not satisfied with ready-made layouts? Now you can design your blog single pages however you like to match your own style and taste.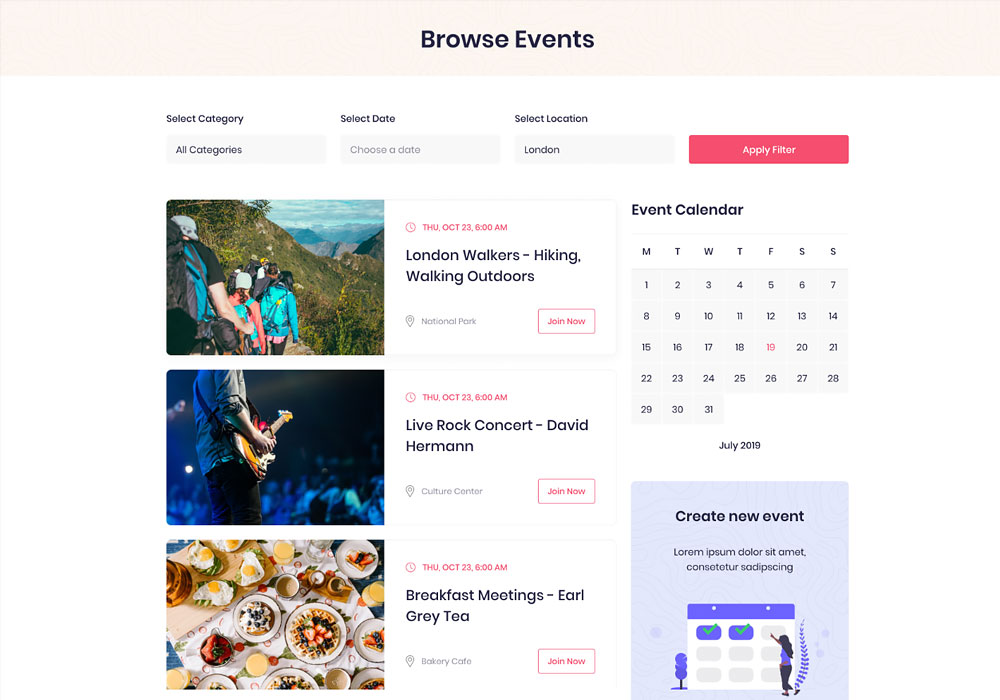 Create your own archive page layout
Go beyond the borders of customizability! Don't limit yourself to ready-made templates – design your archive pages for any blog, portfolio or other custom post type pages yourself! Create, edit and define a unique style for your custom archive templates and assign them to any custom post type.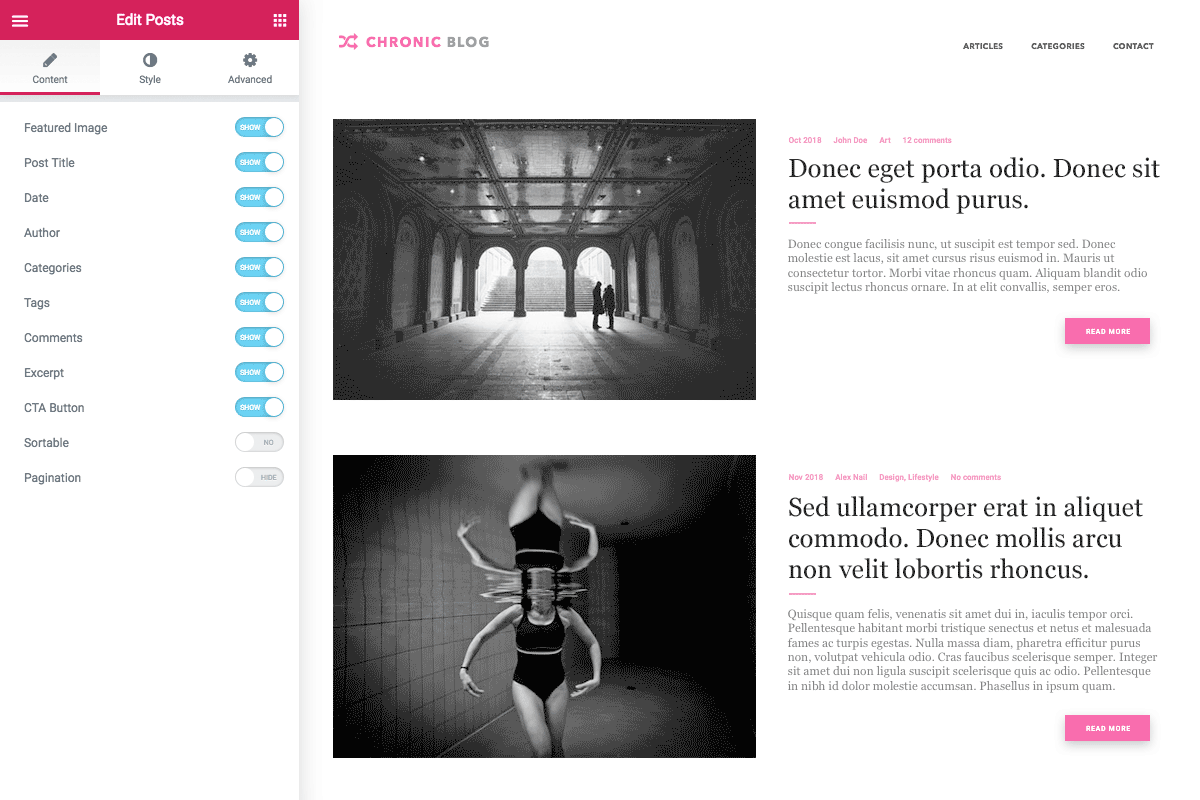 Show / Hide Blog Elements.
Only show the content that matters to your users! You can turn off all elements in your blog list and blog single, such as the featured image, title, Meta, tags, social share, CTA buttons, author box, categories, related posts, comments, navigation, and more.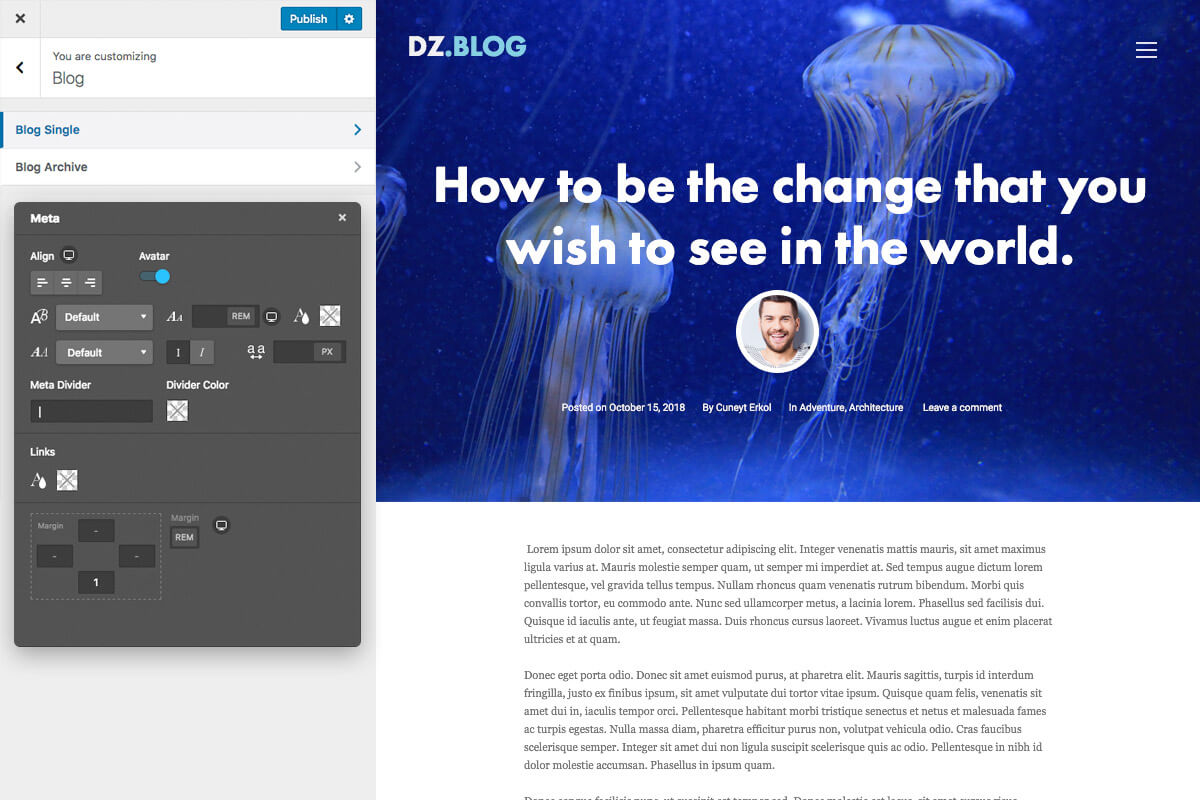 Customize Every Aspect of Your Blog Single.
After choosing a blog single template, you can personalize it even further to make it suitable for your brand or preferences. Just like blog lists, you can customize everything, from featured image to author box and meta options in blog single pages.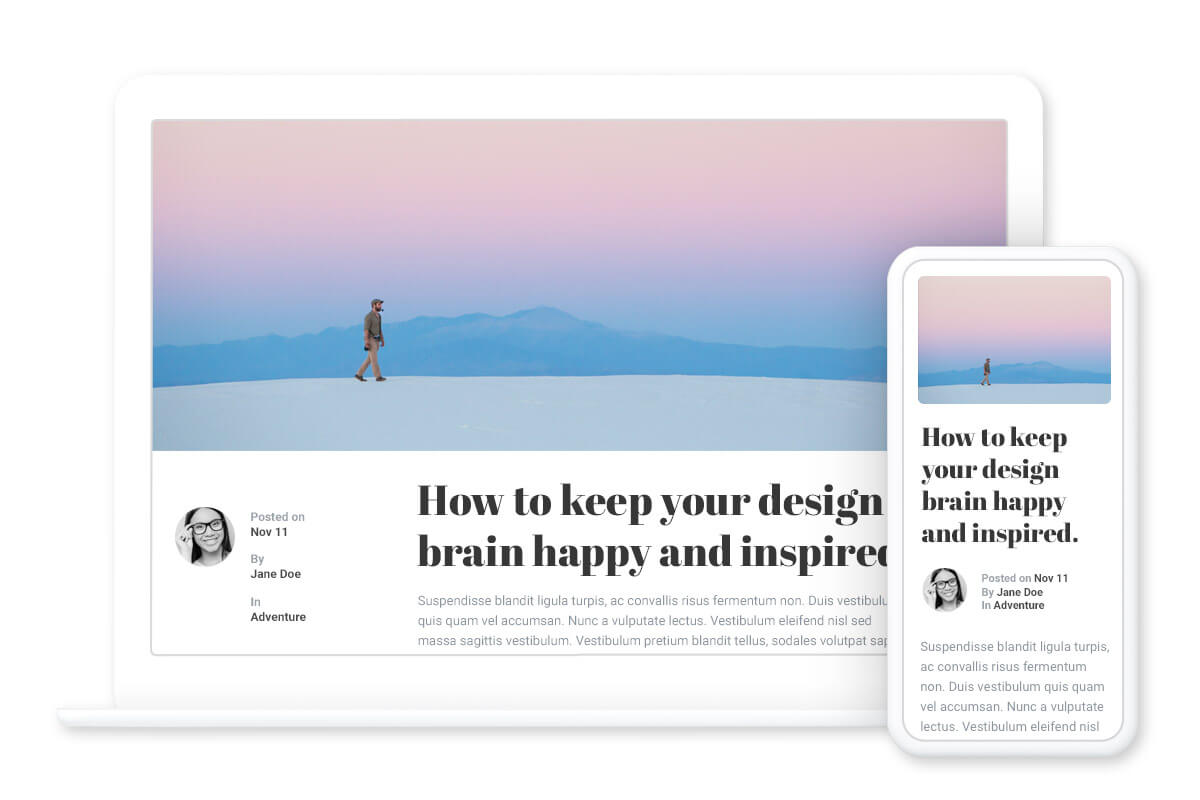 Responsive to Any Device.
Imagine having a blog that looks perfect on any device, not just on desktops. With Jupiter X, you can now make your blog mobile and tablet friendly, and offer your site visitors the most pleasant user experience for every screen resolution.
Exclusive extra features to build professional blog magazines!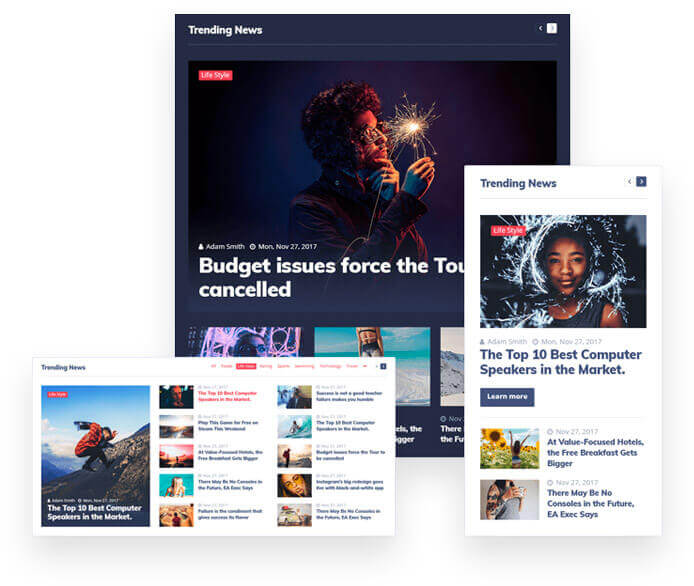 Create unique post lists for your magazine
If you have a lot of posts Smart Post List feature will help you organize them in eye-catching batches. You can customise elements such as featured post, image size, title, meta, etc.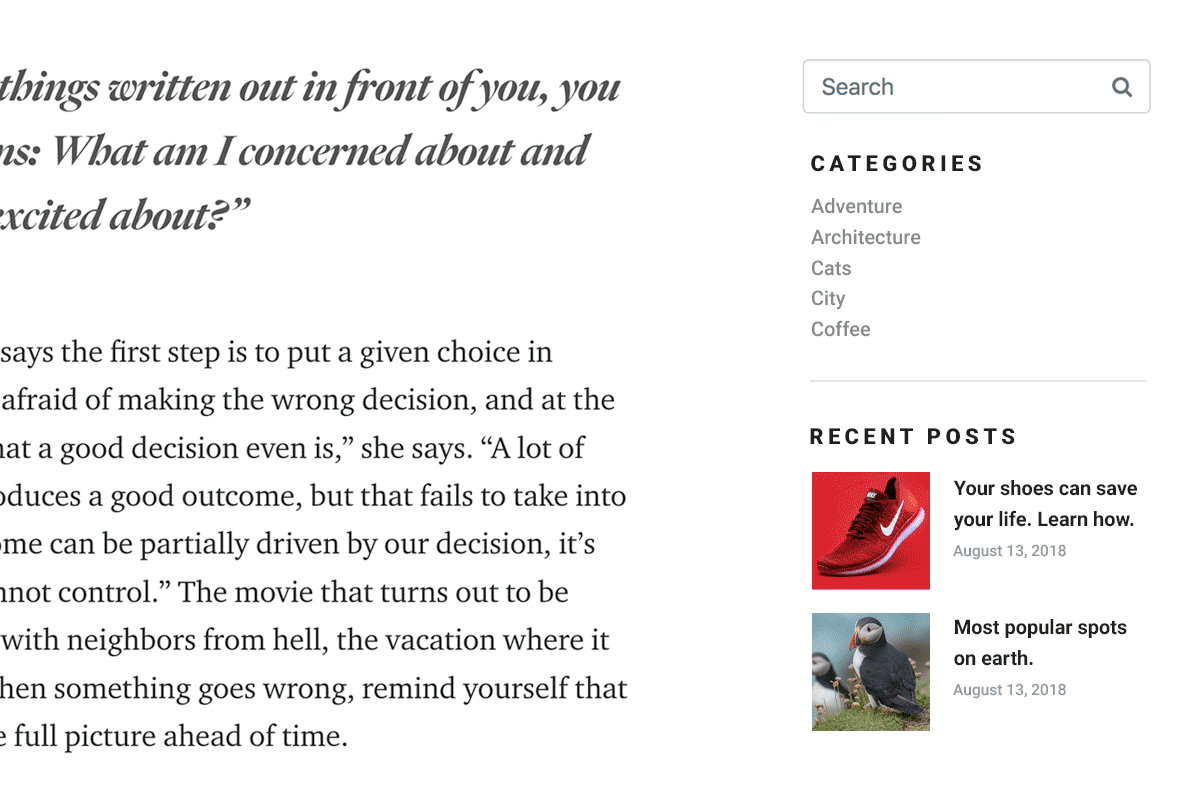 Managing Your Blog Widgets is a Breeze.
Enjoy adding, removing, customizing and reordering your widgets while seeing real-time results. One more step to make your blog look unique.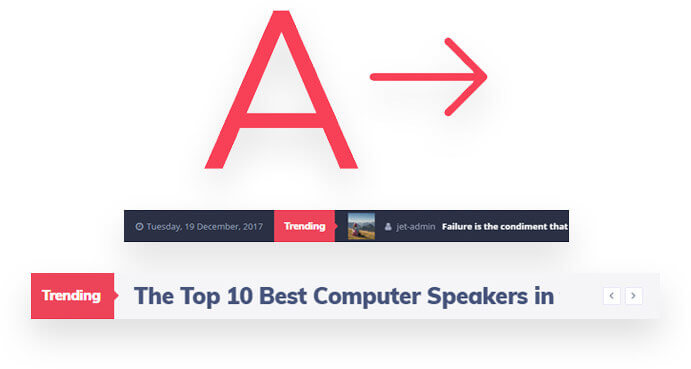 Highlight what matters
with text ticker
This element display the recent and most important post titles to engage your readers more effectively. You can use it in dark or light skins and customsie every single bit of it using a live editor.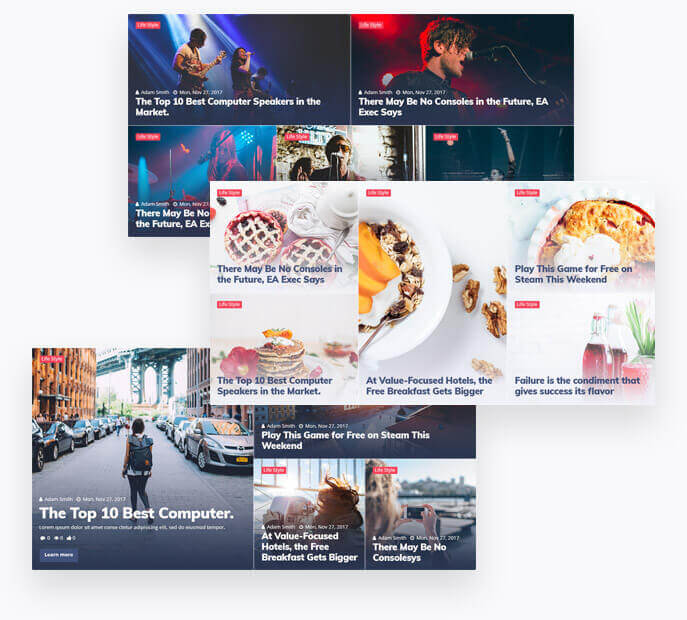 Enjoy unique and exclusive layouts for your magazine
Creative layoutscan give a booost to your online magazine credibility. With Smart Post Tiles feature, Jupiter X makes possible varieties of layouts and style. You can customsie almost everything such as gap between boxes, create box overlays, content appearance and meta information.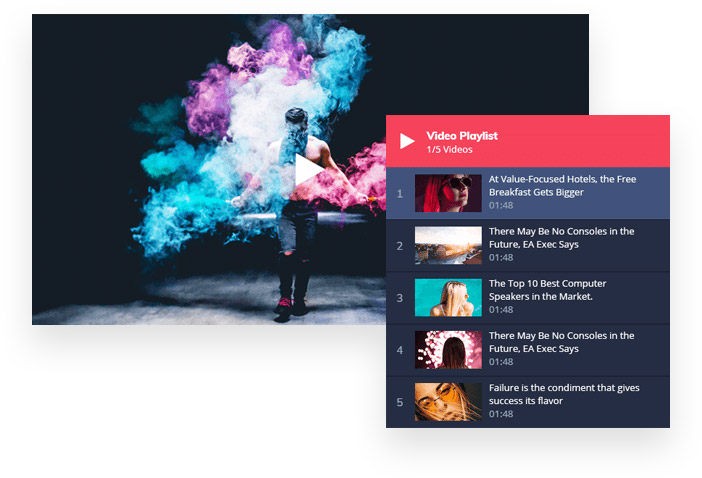 if you want to showcase the videos in a stylish way, Video Playlist widget allows you to add a video playlist to the web page. You can customize the style of the thumbnails and scrollbar, as well as the thumbnail numbers or typography.